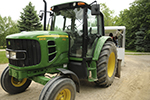 To visit the farm sites, you must ride the tractor cart. There is no pedestrian access from town to the farms.
The tractor will pick you up outside the Visitor Center and drop you at the 1700 Farm. From there, you will walk to the 1850 Farm and then the 1900 Farm. (If you prefer not to walk between 1850 and 1900, ask the tractor driver for a Step-Saver Tour.) The tractor will pick you up again at the 1900 Farm, and then you have the option of being dropped at the northwest edge of town, allowing you to walk through town sites, or back at the Visitor Center.
The tractor runs every 20-30 minutes, and the last tractor leaves the Visitor Center at 2:30 p.m.